Our guests are enthusiastic in their praise of Metivier Inn! The following is a sampling of just a few of the comments we have received most recently:
Kalamazoo, MI
We have stayed at the Metivier four times... Blanca us such a great hostess and the staff is always very accommodating. Fabulous location on the island. The gardens and porches invite you to stay and relax.
Grand Haven, MI
The Metivier Inn is beautiful, clean, comfortable and a very enjoyable place to stay. The staff is so friendly and will do anything to help improve your stay. The location is the best. Very quiet but a short walk from the ferry dock and you can walk to all the restaurants on the main street. We stayed 2 nights and did not want to leave. If you want to stay at a B&B on the Island, the Metivier Inn is the best choice.
Indianapolis, IN
My husband and I celebrated our 5th anniversary at the Metivier. From Lucas to Bob to George and Blanca it was a great stay! The room and Inn is SO clean! We will never stay anywhere else but the Metivier. Breakfast was outstanding and very filling. We felt at home and comfortable. Leave your cell phones in the room and enjoy every minute!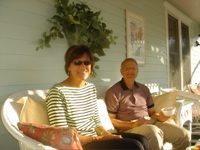 Elkhorn, WI
My husband & I highly recommend Metivier Inn. This was our fourth trip to Mackinac Island. We have stayed at the Grand Hotel & Iroquois Hotel, both with their own uniqueness. However, now after my stay at Metivier, we have found a place to return to year after year. I felt at home here & spoiled by the Inn keepers David & Blanca.
Our room was the Grand View, with our own private patio & whirlpool. I truly felt like I was in paradise. Waking up in the morning to a soft rain & seeing the beautiful hydrangeas out my window with the sound of horse hoofs clip-clopping in the distance. It is a slower pace & that's why we come here & stay for days. The breakfast was over the top. David & Blanca served hot oatmeal with homemade granola, yogurt, hot egg dish, sausage, fresh fruit bowl, pastry with huge slices of apple in it ( I can still taste it, so good ), gourmet breads, coffees & teas. Oh, & cereals for the kids.
My husband & I love to bike, usually until dark & this breakfast kept us going! This Inn is perfect – the flowers – the service – the breakfast – the porch for people watching – the room & private patio. Please don't change a thing.
Our next trip will be with all the kids & we will be only staying at Metivier Inn. Thank you so much for a perfect vacation get away.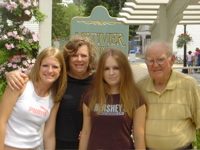 Houston, TX
The gardens are beautiful and definitely worth a stroll. There is a wonderful common area and wrap around porch with ample seating to relax, eat, read a book or just people watch. If you are reasonably fit, this B&B is in walking distance to almost everywhere, including the steeper street behind it that leads to the Grand Hotel. Riding a bicycle was much more fun though. This is the best B&B I have ever stayed at. Kudos to the Metivier Inn.
Royal Oak, MI
We found the Metivier Inn "by accident" when our usual hotel was not available for a fall weekend--that was 20 years ago, and we have come back every year since. The home is beautiful, the breakfast is wonderful, and we especially look forward to seeing our hosts, Bianca and Dave (and before them Angie and George). Our daughter has always been welcome, even when she was a noisy little thing. We enjoy sitting by the cast iron stove when it is cold, and sipping a hot drink as we mingle with the other guests. We all have made wonderful memories staying at the Metivier Inn.
Members of the Metivier family visited the Inn:
Joanne Seewald Camille and Frank Camille
My Grandfather – Charles Lambert Metivier was born in this house 11/28/1888. I stayed here as a child when the house was owned by my Great Aunt Mary. Then it was a small house with a big porch. You have done a wonderful job here!
Laura Sevonty, Seattle, WA
I am the great granddaughter of Louis Metivier, the man who built the original home. I always enjoyed coming here as a child and sitting on the porch with my Grandmother Myrtle. Her husband Charles Metivier was born in this house in 1888. This is my 3rd visit to the Metivier Inn. I definitely will be back. I thank you for doing such a lovely job restoring this home.